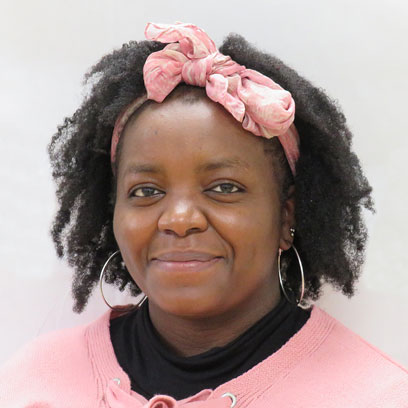 Sarah Nghidinwa
About Sarah:
Works as Counsellor / Psychotherapist at First Psychology Centre, Edinburgh.
Languages spoken:

Sarah Nghidinwa is a counsellor / psychotherapist who works with individual adults with a wide range of issues and problems including: depression/low mood; anxiety; stress; anger/aggression; chronic illness; eating and body image issues; gender and sexual identity; life transitions; loneliness; obsessive compulsive disorder (OCD); post-traumatic stress disorder (PTSD); relaxation; self-harm; trauma; and many more issues.
Sarah has particular experience working with adults with anxiety, rumination, relational difficulties, depression, attachment issues, stress, suicidal thoughts, trauma, habitual behaviours, personality disorders, mood disorders, and psychotic disorders.
Sarah has intermediate level Afrikaans
and is happy to work with clients who feel more comfortable speaking in this language.
Sarah's way of working
Sarah takes a client-centred approach to her counselling / psychotherapy work and aims to establish a trusting collaborative relationship with each person, believing this to be the key to bringing about change. Sarah works mainly using a psychodynamic approach, but tailors her approach to meet the needs and preferences of each individual and this includes using elements from other approaches/techniques. Sarah offers both long-term and short-term therapy.

Sarah's background and training
Sarah has lived and studied in Namibia, India, and Scotland and she has several years' experience working in support roles in both the UK and Namibia. These include working as an intern psychologist with people experiencing a range of issues and problems and in the care sector helping support individuals diagnosed with mental illness. In addition, Sarah has worked as a psychology tutor at Welwitschia University, Namibia and she is a tutor on the Postgraduate Certificate in Counselling at the University of Edinburgh.
Sarah has a Postgraduate Diploma in Counselling and Psychotherapy from the University of Edinburgh and an MSc in Psychology from the University of Mysore, India. In addition, Sarah is currently working towards completing a Professional Doctorate in Psychotherapy and Counselling at the University of Edinburgh.
Sarah's fee
Sarah charges £65 a session for self-funding clients. She also works with clients referred via their employer/organisation – for further details, please visit First Psychology Assistance.