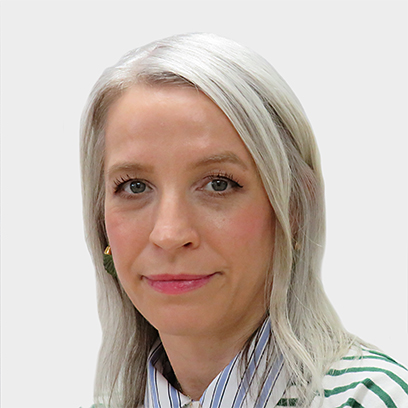 Michelle Thom
About Michelle:
Works as Psychotherapist / Art Therapist at First Psychology Centre, Edinburgh.
Languages spoken:

Michelle Thom is an experienced psychotherapist / art therapist who works with individual adults with a wide range of issues and problems including: anxiety; depression/low mood; stress; assertiveness; bereavement / grief; chronic illness; eating and body image issues; gender/sexual identity; life transitions; obsessive compulsive disorder (OCD); panic; phobias; post-traumatic stress disorder (PTSD); relaxation; self harm; social anxiety; trauma; and many more issues.
She has particular experience working with trauma; anxiety; sexual abuse; historical abuse; stress; and depression.
Michelle's way of working
Michelle's therapeutic approach is based on creativity and connection. As an integrative therapist, Michelle draws on a range of approaches to meet the individual needs and preferences of each person. She draws on Humanistic and Psychodynamic Theory, Gestalt, Transactional Analysis, and Attachment as well as creative approaches to working with mind and body. In addition to talking, Michelle offers the opportunity to use art materials or imagination. This does not require any artistic ability or skills but can offer a valuable extra channel of communication to access feelings that are hard to express in words. Michelle believes that the therapeutic relationship is the key to healing.
Michelle's background and training
Michelle has worked in a variety of settings including in private practice and in voluntary roles within the NHS as well as with a number of charities working with adults who are survivors of abuse, those with borderline personality disorders, and those experiencing homelessness. Before becoming a therapist, Michelle worked in retail and in the creative industries. She grew up in different countries in Africa before moving to London twenty years ago and more recently to Edinburgh. These experiences have given Michelle an understanding of life changes and the issues that arise when moving between cultures, careers and ways of life.
Michelle has a Diploma in Therapeutic and Educational Application of the Arts and Education and a Masters Degree in Integrative Arts Psychotherapy (both from The Institute for Arts in Therapy). In addition, Michelle has a Degree in Fashion Design.
Michelle is registered with the Health and Care Professions Council (HCPC).

Michelle's fee
Michelle charges £65 a session for self-funding clients. She also works with clients referred via their employer/organisation – for further details, please visit
First Psychology Assistance.