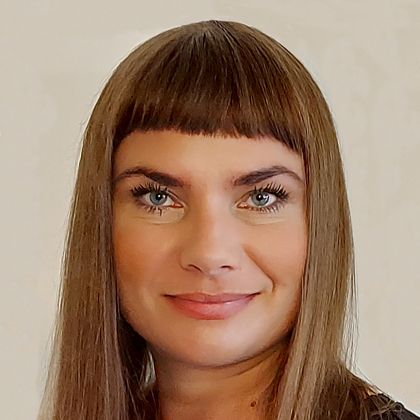 Joanna Kaczowka
About Joanna:
Works as CBT Counsellor at First Psychology Centre, Edinburgh.
Languages spoken:

Joanna Kaczowka is an experienced CBT counsellor who works with individual adults (age 16+) with a wide range of issues and problems including: depression/low mood; anxiety-related issues such as generalised anxiety disorder and social anxiety; addictions; post-traumatic stress disorder (PTSD); low self-esteem; criticism; eating disorders; body image issues; anger, assertiveness; stress; chronic illness; and many more issues.
Joanna is fluent in Polish
and is happy to work with people who would feel more comfortable speaking in this language.
Joanna's way of working
Joanna works in a flexible, collaborative and person-centred way. She places the therapeutic relationship at the heart of the therapy process and believes it is the key to successful therapy. Her main therapeutic approach is cognitive behaviour therapy and she integrates this with humanistic and psychodynamic approaches depending on each client's individual needs and preferences. She regularly uses handouts to further enhance the therapy sessions and may also agree 'between session' tasks with clients when she feels this may be helpful.

Joanna's background and experience
Joanna has worked in a variety of different settings including for a number of voluntary / charitable organisations working with both adults and primary school children with a range of mental health issues; and in private practice.

Joanna has a Diploma in Cognitive Behavioural and Group Work Therapy; a National Higher Certificate in Counselling; and a Master's Degree in Offender Rehabilitation, Education and Social Prevention (Jan Kochanowski University). In addition, she has undertaken training in art therapy and most recently she has completed training in Compassion Focussed Therapy (Compassion Mind Foundation in London).

Joanna is a member of the British Association for Behavioural and Cognitive Psychotherapies (BABCP).

Joanna's fee
Joanna charges £65 per session for self-funded clients (concessions available). She also works with clients referred via their employer/organisation – for further details, please visit First Psychology Assistance.